Advanced Diploma In Hospitality Management
(E-Learning)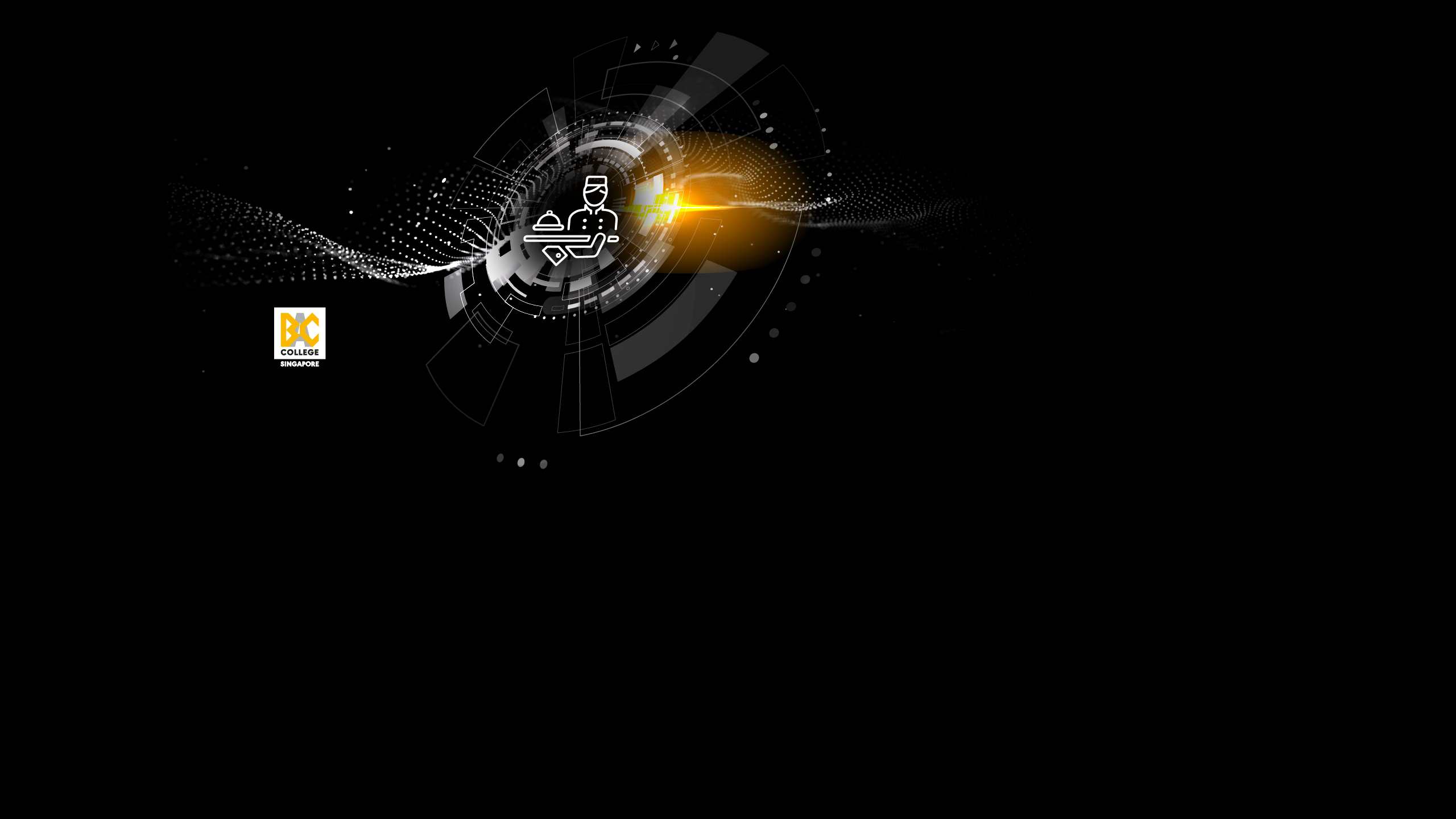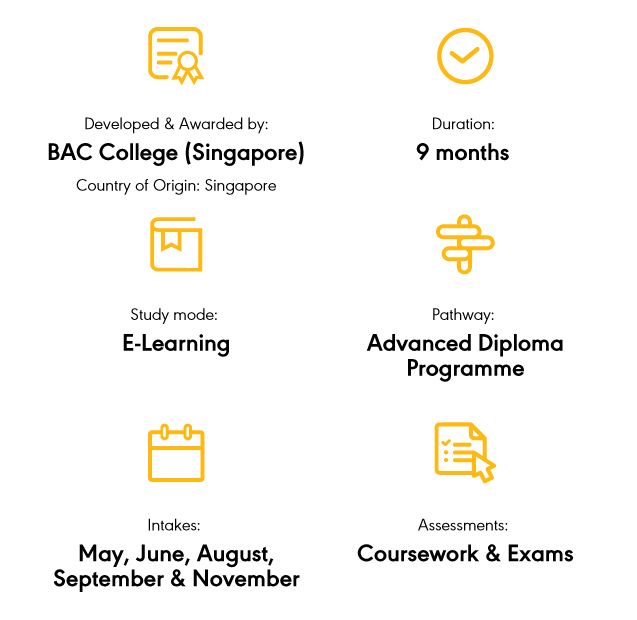 Here's the
BIG
Picture
This programme is designed to hone your knowledge and develop crucial skills needed for a successful career in the hospitality, tourism and hotel industry.
On completing this programme, you will have the chance to embark on the final year of a relevant degree programme with an articulation framework between BAC College (Singapore) and its University partners.
With This Course You Will:
Demonstrate systematic comprehension (understanding) of a broad range of complex technical and theoretical knowledge and skills to undertake varied, complex, routine and non-routine tasks/study within a field/discipline.
Identify, interpret, apply and evaluate general concepts, theory and/or operational principles within a well-defined context of a subject/discipline and/or work with minimal supervision.
Apply a range of practical skills, essential tools, methods and procedures to perform required tasks/work. Reflect and adjust practices and processes, as necessary, related to routine or nonroutine tasks.
Communicate clearly and effectively, orally and in writing, ideas, information, problems and solutions to others including peers, experts and nonexperts.
Use a range of digital applications to support study/work as well as to seek and process data related to work or study.
Perform work with a significant degree of personal responsibility and autonomy under broad guidance and direction on well-defined and non-routine study/work activities performed in a variety of contexts.
Identify self-improvement initiatives and possibilities for further education.
Develop realistic career and professional goals. Explore and engage in activities relating to entrepreneurship.
Demonstrate the ability to understand and comply with organisational and professional ethics in the work environment.
Why Choose BAC College (Singapore)?
Established in 1996, BAC College Singapore (formerly known as ITC School of Laws) offers a wide range of pre-university, and articulation to degree programmes. We provide our students a great educational experience, along with graduate recognition and mobility. Well known for our innovative teaching methods, we offer students an exceptional educational journey, with the choice to graduate from over 25 UK universities that are affiliated to the BAC Education Group.
You will also benefit from our Student-Teacher Ratio.
Lectures: 1 to 100
Tutorials: 1-50
In line with our mission of providing quality education that meets international standards, we are consistently lauded for our excellence in the field. We have received consecutive awards of the prestigious 4-year Edutrust, and voted the Gold standard for the JobsCentral Learning TED Awards in 2017.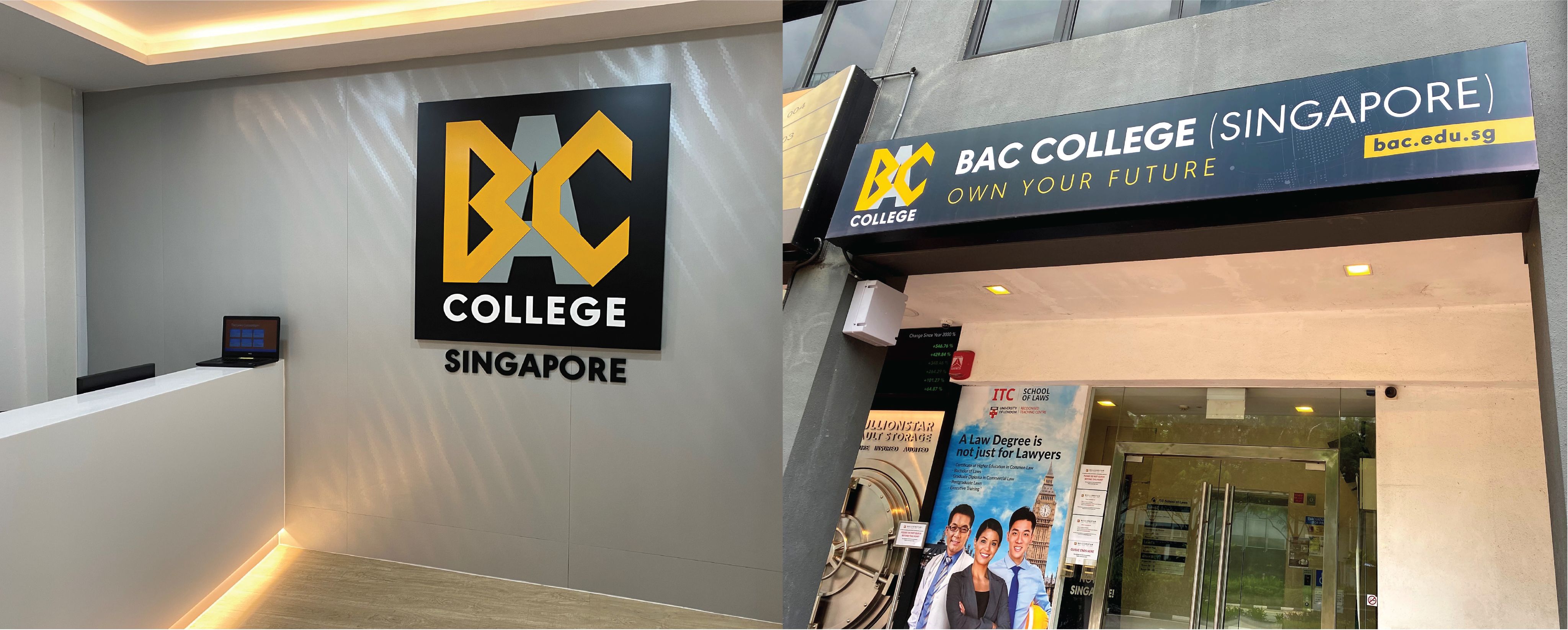 A BAC Diploma in Hospitality Management (via e-learning/face-to-face/blended learning)in all subjects; or
A pass in a Diploma level qualification from a local polytechnic, local Private Education Institution, Foreign University or Polytechnic
Language Proficiency
A pass in the BAC English Placement Test; or
A minimum score of IELTS 6.0/ TOEFL 550/ PTE Academic 50.

Hello there, welcome to BAC College Singapore.
Need advice? Talk to us
COURSE MODULES
Event Management & Execution
This module utilises knowledge in project management to support the planning and execution of an actual event. This includes the incorporation of effective planning techniques to ensure the complexities of event management are factored in. You will also have the opportunity to learn through practical sessions via real event management opportunities.
Food & Beverage Management
This module introduces you to the food and beverage industry, and guides you as you familiarise yourself with multiple areas within the management of food service outlets, from their daily operations to the wider concerns of the hospitality industry.
Customer Services for the Hospitality Industry
You will learn the concepts and skills in understanding and handling customer relations including problem solving, effective communications, dealing with challenging customers, and cultural components of customer interactions and service excellence
Hospitality and Tourism Marketing
This module aims to provide you with an overview and importance of the tourism and hospitality industries through an understanding of concepts and principles. You will also gain relevant skillset and knowledge and be able to identify contemporary issues, problems and trends that underpin the field of tourism and hospitality.
Front Office Management
This module coversthe aspect of managing skills of front office resources and utilizing operational reports to achieve guest satisfaction and profitability. You will also learn about the importance of interdepartmental communications and the process of creating and implementing a front office manual.
Hospitality & Tourism Entrepreneurship
This module serves as an introduction to tourism entrepreneurship, covering the basics as well as how to plot out a new entrepreneurship venture by understanding the opportunities, development potential and evaluation of business ventures in the contexts of the hospitality and tourism industry. You will also get the chance to apply your knowledge practically by producing a business plan based on your analysis of the hospitality industry market.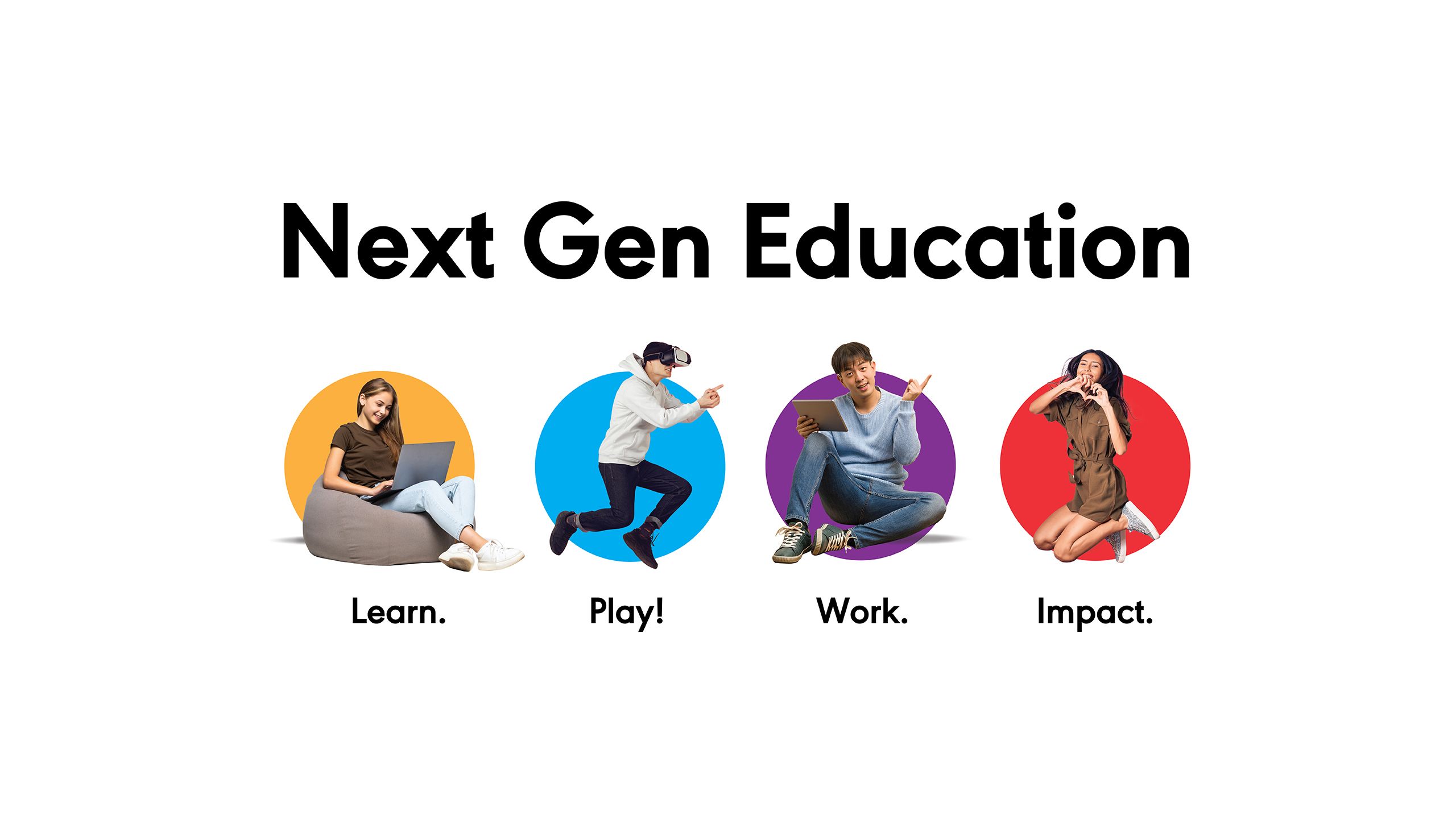 You might also like these Courses.
Advanced Diploma In Media & Communication (E-Learning)
Through this course, you will hone the knowledge and skills vital to beginning your journey into the creative communications industry. Incorporating project based learning, the programme gives you hands-on experience in creative fields.
Learn More
Advanced Diploma in Digital Transformation (E-Learning)
This programme is designed to promote your comprehension in advanced core areas of computing and technology. You will develop skills which are vital to a career in the digital economy.
Learn More
Advanced Diploma In Business (E-Learning)
This course will help you develop the essential skills and competencies needed to excel in a business career, enhancing your understanding of the core areas of business
Learn More